Our Litters
2023 – The Vintage Icon Litter
We are expecting puppies the weekend of June 24-25 sometime.   Akela was bred to AKC GCHB & ASCA CH Brewedstone's Designated Driver "Uber" on April 23,2023.    We do have a waiting list, but some people are very specific on what they're wanting, so doesn't hurt to get put on our list!!    This litter will both show and working, just like last years litter.    I will post pictures on both mom and dad.
2022 – The Earth, Wind & Fire Litter
On April 18, 2022 "Akela" and "Seven" had 7 beautiful puppies.   There were 4 blue merle boys and 3 black tri girls.   All puppies are spoken for in this litter but there is a planned breeding in 2023.
Sire: GCH CH Baywind Supreme Lucky Twist "Seven"
Dam: Mt Woods McKinley U Cnt Cry Pretty In Da BckCntry "Akela"
McKinleys Serpentine Fire "Viper" went home with Lindsey King – look for him in the show ring and in agility, this boy has speed and can FLY!!
McKinleys Victory In A Land Called Fantasy "Jack" went home with Malissa Cole – look for him in the show ring, this boy will be flashy!
McKinleys Dancin' In September "Siggy" went home with Teresa Lindner – she might step into the show ring here and there, but she's a Farm girl at heart!
McKinleys Earth, Wind & Fire "Flair" went home with Akela's breeder, Kaylan Wood – look for this flashy girl in the show ring, she has sass and attitude!
McKinleys Somethin' Special "Jax" went home with Heather Agustines – look for this boy in the show ring and agility ring, he has sass and flash and is going to give his Auntie Ripley a run for her money!!
McKinleys Got 2 Get U N2 My Life "River" went home with Donna Cote – look for this girl in the show ring and agility ring!    She's going to give her Uncle Fly a run for his money!!
McKinleys The Reasons That We R Here "Reason" – Reason stayed here with us.  He was our pick boy and we just couldn't let him go.   He's already showing promise in the ring at his first "Fun Match" in July and took Best Puppy over about 11 other puppies in the 4-6 mth.
These kids will all be in the show ring in Nov 2022 for their first "Big kid show"……..can't wait to see where these fur kids go!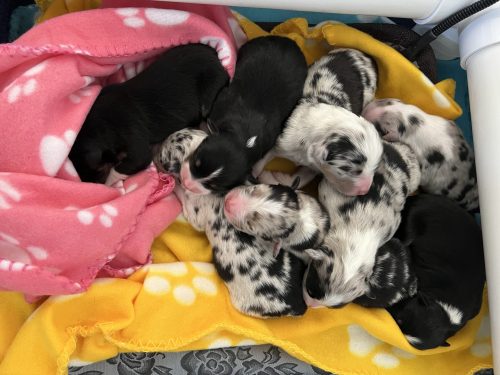 Pile O' Puppies – Born April 18, 2022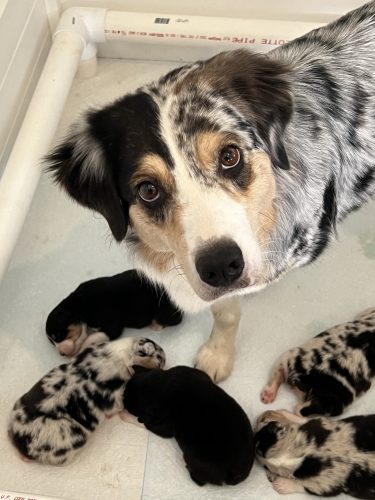 Proud Momma – 6 days old
First meal – 5 weeks old     –     Full after their meal, they're not missing any 🙂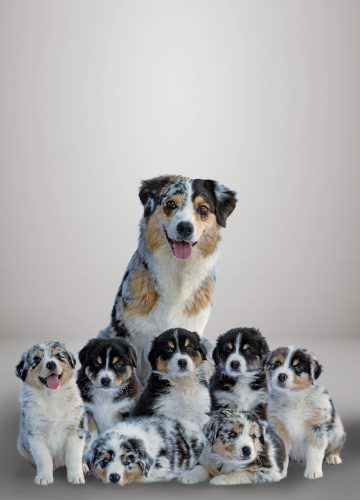 Photo courtesy of Laura Stockemer – North & Wild Photography